1. What is General Course?
The JFKL General Course is a part-time Japanese language course, usually held on weekday evenings. All classes are 1 hour 50 min (including a 10-minute break) once a week.
*General Course will be conducted online this year (April 2021 – March 2022)
2. How old do I have to be in order to apply for the language course?
Our course content and teaching approaches are more adult-oriented. Therefore, you have to be at least 16 years old and above to apply.
3. How many students can be accepted in each class?
We could only accommodate up to 16 students per class. Therefore, admission into a class will be determined on a first-come-first-served basis, unless stated otherwise.
4. Who are the teachers?
All of our Japanese and Malaysian teachers are experienced and well-trained in Japanese language education.


5. What is the technical requirement for Live Lesson?
■System used
Online live lessons are conducted via Zoom (https://zoom.us/). The program will need to be installed for the first time only. We use passcode and waiting room functions as security measures while using Zoom.

*The necessary bandwidth for using Zoom.
Upload Speed 600kbps / Download Speed 1.2Mbps

Please check here if your internet connection is sufficient before you apply.
https://www.speedtest.net/ (Clicking this will transfer you to the third-party website.)

■What you need
To take the live lessons and oral test, please have the following four items ready.

1. Computer with an internet connection
 Windows:Windows 10 / 8.1 or later
 Mac:OS X 10.10 or later
*Be sure to participate with a computer.
*Do not participate with smartphones as information will be shared during the live lesson.
2. Browser
Windows: Internet Explorer 11, Chrome, Safari
Mac: Safari, Chrome
*The latest version is recommended.
3. Headset (with microphone)
4. Web camera


6. I have zero / little basic in Japanese, what class should I apply for?
You may apply for our Starter class. If you would like to know more, please refer to No. 8.


7. I have some knowledge of Japanese and wish to continue study in your center, do I need to take a placement test before admission?
Yes, you are required to sit for the placement test if you have learned the language in the past. You shall be assigned to a class based on your placement test results. This shall lessen your worry of admitting into a wrong class!


8. I have learned Japanese in other schools before, which class would be appropriate for me?
JFKL places focus on communicative approach in language teaching, rather than grammar-centered teaching style. As syllabus and levels vary across schools, you are advised to have a look at our course structure and textbook samples for each class before applying.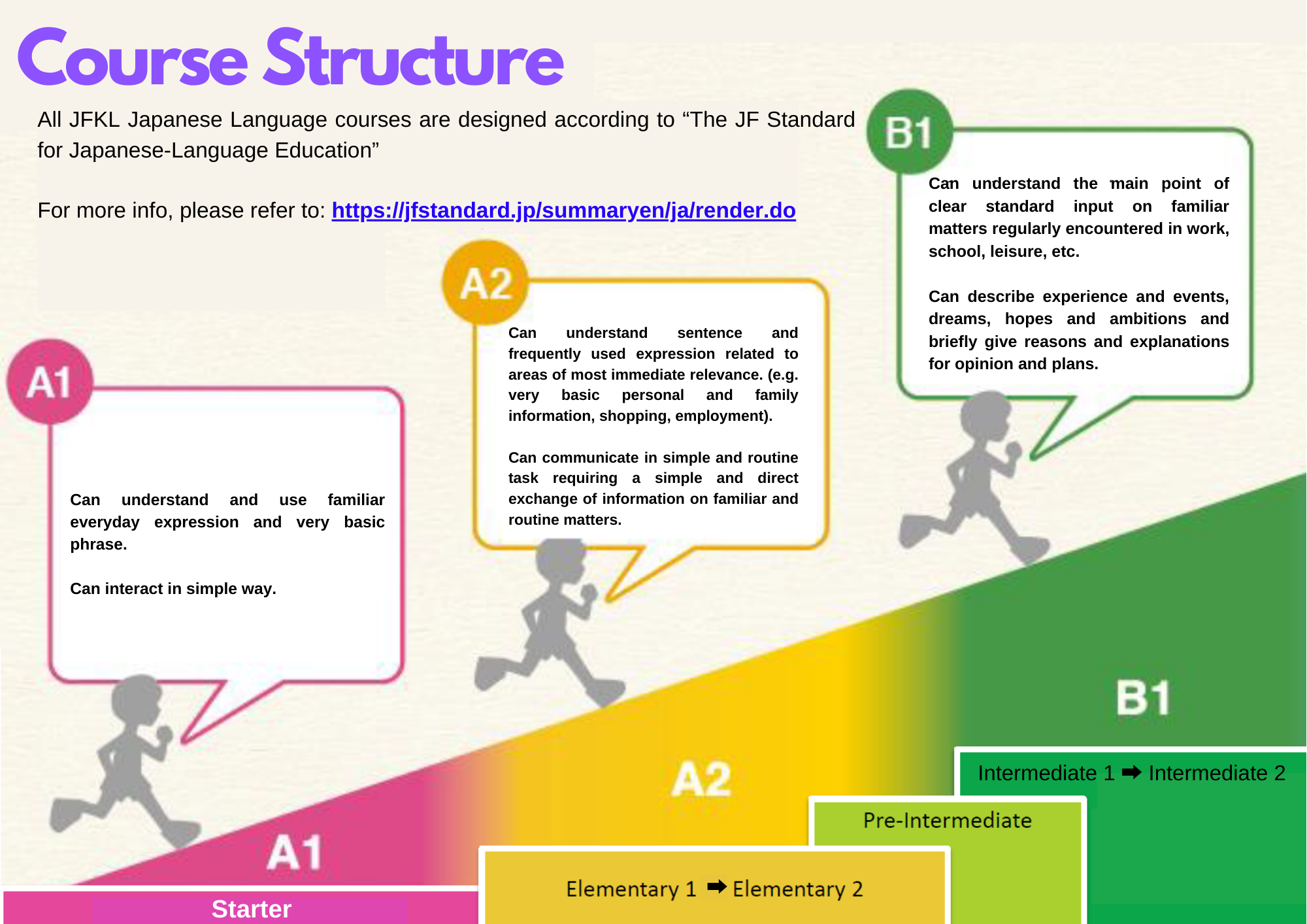 9. When should I apply?
Our primary intake falls in April, where all levels would be open for application. Nevertheless, choice of levels would be limited during the in-year admission intake in June, October, and December.
APRIL
(Primary intake)
JUNE, OCTOBER, DECEMBER
(Mid-term intake)

New entry

All Classes

June: Starter Only

October: All Classes

December: Starter Only

*In-year admission

–

Depends on class capacity
*NOTE: "In-year admission" refers to admission to a currently ongoing 1-year course following the result during the June, October, and December intake. In such a case, students are still entitled to sit for the advancement examination.

10. How should I apply?
The application form would be made available online when registration opens. Please check out our website & Facebook page for updates.
(General course URL)
https://www.jfkl.org.my/language/learners/nihongo-kouza/general-japanese-course/
(Facebook)
http://www.facebook.com/theJapanFoundationKL

11. Where can I refer for more details regarding General Course (e.g. fees, schedule, etc.)?
The details are all available on our website!
https://www.jfkl.org.my/language/learners/nihongo-kouza/general-japanese-course/


12. How can I pay the course fees?
We are using ipay88 email payment services. The invoice for the course fee payment will be sent to you via e-mail after the announcement of the placement test result. Once you receive the invoice, you will have to make the payment via online banking. Please note that after the due date, the payment link will be expired and your enrollment will be canceled automatically.

13. Will I receive a certificate or qualification for taking up a course?
You will receive a certificate upon course completion, according to the completion requirements of each class. However, please note that the certificate is not officially recognized by local authorities or institutions.

Most learners would opt to sit for the Japanese Language Proficiency Test (JLPT) whose certificate is generally accepted by most institutions, organizations, and private companies in Malaysia and abroad. The test is held twice a year in July and December. In Malaysia, you may sit for the test in Kuala Lumpur, Penang, Ipoh, Kota Kinabalu, and Johor Bahru. For details and registration in Malaysia, please refer to the Japanese Language Society of Malaysia (JLSM): http://www.jlsm.org/
14. Do you offer JLPT Preparatory courses/business courses / private lessons / intensive classes?
No, currently we are not offering the above-mentioned courses. For other types of courses, you may want to look up what other schools offer.
Below is a list of Japanese Language Schools in Malaysia for your reference. Kindly contact the respective schools directly to find out more about the courses available.
https://www.jfkl.org.my/language/learners/list-of-japanese-language-school-in-malaysia/
(Please note that the listing of schools in this link is merely for your reference and does not mean that they have our full recommendation or recognition.)
15. Who can I contact if I have any further questions?
You may send in your inquiries via email to japanese_course@jfkl.org.my, or call us at 03-2284-7228 during the following hours:
(Tue-Fri) 10:30am to 12:00pm / 2:00pm to 6:00pm
(Sat) 8:30am to 12:00pm / 2:00pm to 4:00pm