In 2022, the Malaysian Government's Look East Policy, which has greatly contributed toward strengthening bilateral ties between Malaysia and Japan, will mark its 40th year. To celebrate this occasion, JFKL presents concert of Min-yo, Japanese folk songs, with inviting six professional musicians from Japan featuring Alena Murang (Sape') as the guest musician from Malaysia.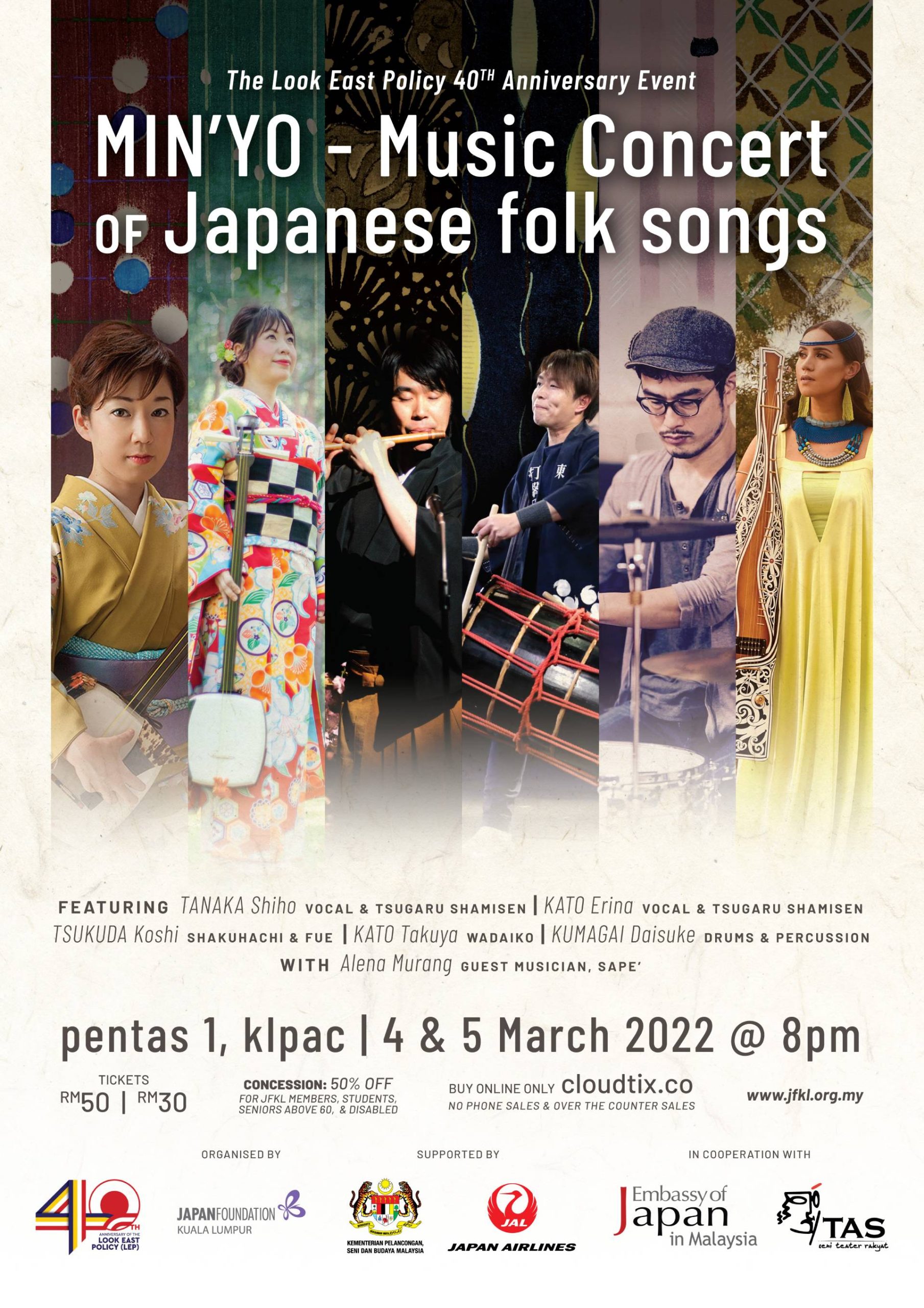 Min-yo can be considered as Japanese "soul music." It has long been sung amongst the townspeople such as farmers, fishermen, nannies, lovers and etc. Min-yo's lyrics not only help you understand the daily lives of the Japanese people, but also their perception of seasons, and regional culture as well.
Min'yo is characterised with its special singing technique called "kobushi" which emplyos the style of melisma. The conventional setting of a Min'yo performance consists of vocals, Shakuhachi (bamboo flute), Shamisen (three strings instrument) and Shime-daiko (small drum). This time, wadaiko (big drum) and percussion will be added to the usual setup of a Min?yo performance for a programme ranging from traditional renditions to contemporary arrangements. With a lively rhythm and intertwining serene melodies, the audience can be sure to join in and enjoy.
VENUE
Pentas 1, Kuala Lumpur Performing Arts Center (KLPac)
Sentul Park, Jalan Strachan, Off Jalan Sultan Azlan Shah, 51100, Kuala Lumpur
SHOWTIMES
8:00 PM, 4 March 2022 (Friday)
8:00 PM, 5 March 2022 (Saturday)
ADMISSION
RM 50 & RM 30. Concession: 50% OFF for JFKL Members, Students, Seniors above 60 & Disabled.
Ticket are available online via cloudtix.co. No phone sales & over the counter sales. JFKL Members are required to bring their member card for verification purposes.
>>> CLICK HERE TO PURCHASE TICKETS <<<
IMPORTANT NOTE: Tickets can be purchased the latest up 1 hour (by 9:00 PM) after the show started. However, it is not encourageable, as you will miss out half of the show.