MAJAS Member Lecture Series in March 2021
Date
: 22 March 2021 (Monday)
Time
: 12:00 PM - 1:00 PM
Platform
: Online via Google Meet
Admission
: FREE (Click link to join:
http://meet.google.com/qig-uysg-emo
)
Speaker: Dr. Ang Li Ling (Senior Principal Assistant Secretary, International Relations Division, Ministry of Higher Education)
Moderator: Dr. Muhammad Danial Azman (University Malaya)
(Lecture will be conducted in English)
TOPIC

Japanese Work Culture: A look into the implementation of 5S principles in the Malaysian public sector
By Dr. Ang Li Ling

ABSTRACT

The "Look East" policy was announced by the government of Malaysia in 1981. The purpose of this policy is to learn from the best practices of Japan, and among others, the focus was on inculcating Japanese work ethics and managerial systems to improve economic performance and productivity in Malaysia. The Malaysian Administrative Modernisation and Management Planning Unit (MAMPU) introduced a 5S guideline for the public sector in 2010 which, in the main, emulates the Japanese practice of 5S at the workplace. The 5S practices of Seiri (sorting), Seiton (organizing), Seiso (cleaning, shining), Seiketsu (sanitizing, standardizing) and Shitsuke (sustaining) are the key elements of a system for reducing waste and increasing productivity by maintaining an orderly work environment. The 5S concept which originated from Japan was perfected and implemented by corporations such as Toyota, both at the parent company in Japan as well as in their production facilities overseas. The Japanese experience with the 5S methodology and techniques indicates that they contribute significantly to the productivity of an organisation. The basis of this practice, has at its heart, the values and practices of traditional Japanese culture. In 2013, the 5S guideline was updated and enhanced by the Public Sector Conducive Ecosystem (EKSA) guideline in Malaysia's public sector. The essence and core elements of 5S remain as the main focus of EKSA. This talk will share the practice of Japanese work culture with specific focus on the experience and implementation of 5S in the Malaysian public sector.
---
BIOGRAPHY
Dr. Ang Li Ling
Senior Principal Assistant Secretary
International Relations Division
Ministry of Higher Education
Dr. Ang Li Ling joined the Malaysian Civil Service in 2003. She obtained a BA of Arts in Japan Studies from Universiti Malaya in 1997. She then completed a Masters of Education programme at Kagawa University, Japan in 2002. She obtained a Ph.D in Management Accounting Practices from Universiti Sains Malaysia, Penang in 2019. She also holds a Diploma in Public Management from the National Institute of Public Administration Malaysia.
Dr. Ang first served as Assistant Secretary at the International Relations Division, Ministry of Education, coordinating multilateral and bilateral cooperation initiatives and programmes. Later, she spent more than seven years as Assistant Director and subsequently Principal Assistant Director at the Malaysian Administrative Modernisation and Planning Unit (MAMPU), Prime Minister's Department. Her responsibilities in MAMPU included providing consultancy in quality management, coordinating public sector quality and innovation awards, being part of the team developing public sector administrative development circulars as well as conducting public sector management audits on central agencies, ministries and related government agencies. She was posted to the Planning and Policy Coordination Division, Ministry of Higher Education in September 2017 as Senior Principal Assistant Secretary, heading the Coordination Unit and remained with the same division when the Ministry of Education merged with the Ministry of Higher Education in 2018. Her current assignment is with the International Relations Division, Ministry of Higher Education. Prior to joining the civil service, she worked in the private sector and at the Embassy of Japan in Kuala Lumpur.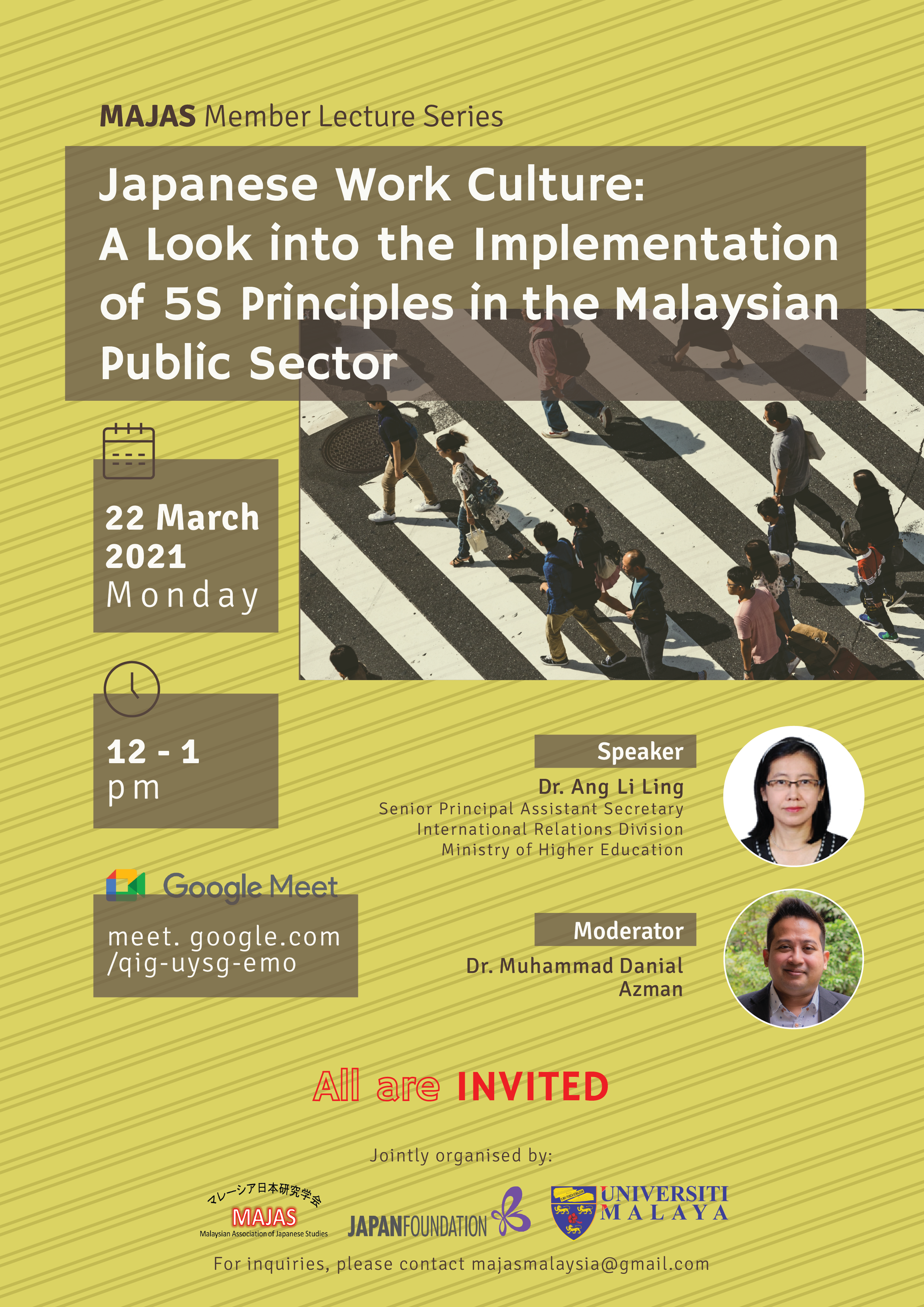 Click on the poster to download e-Flyer