RESULTS ANNOUNCEMENT
We are proud to announce the Japan Foundation, Kuala Lumpur have successfully organised the "Tenugui Design Contest" open to all Malaysians aged 18 and above!
Out of the overwhelming 180 submissions received, and after a long discussion, the judges have agreed and selected 3 winners for this contest. Congratulations to the winners and participants for their wonderful submissions and unique interpretation of the theme 'Malaysia+Japan'.
Read the judges' comments on the three winning designs as well!
Here are the winning designs!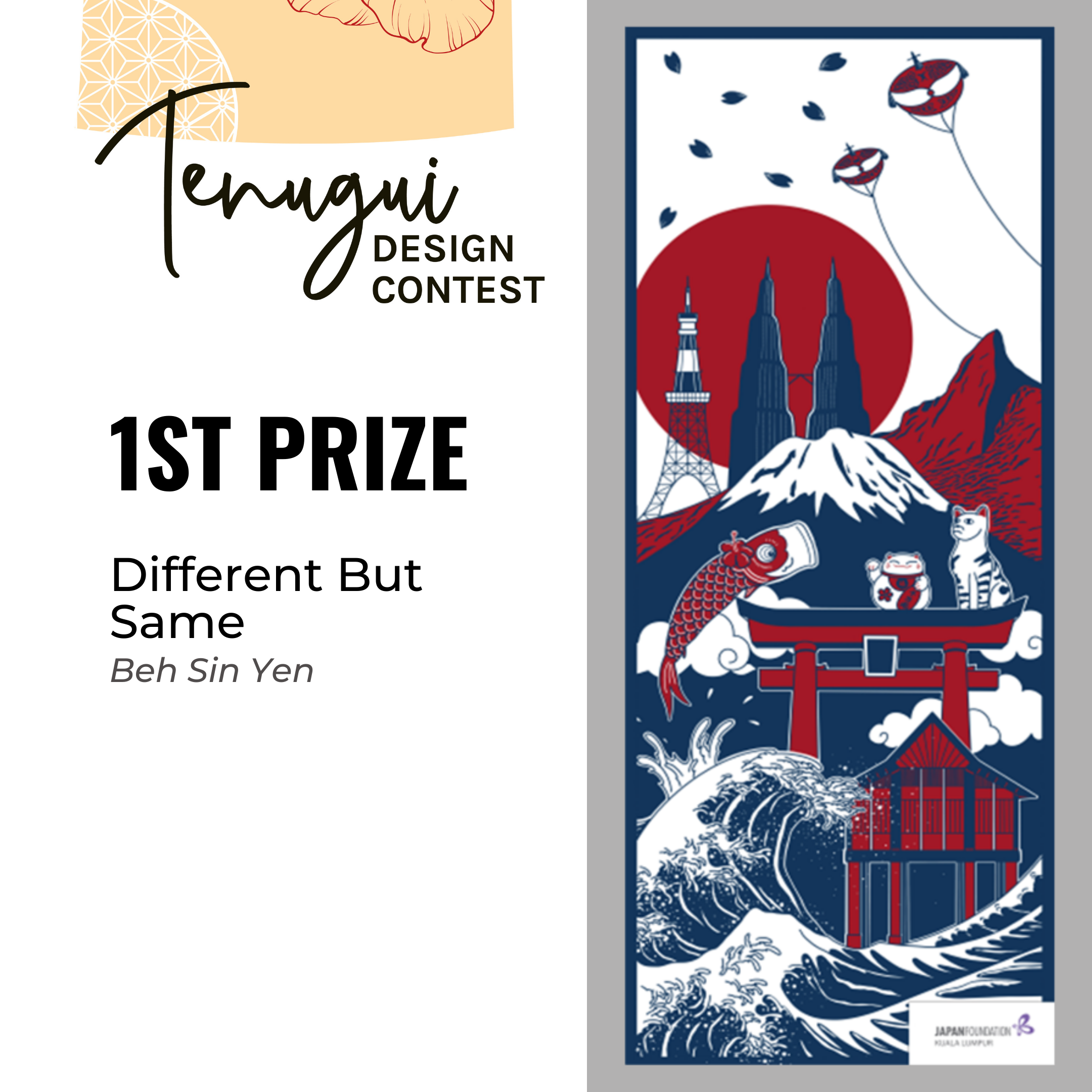 JUDGES' COMMENTS
Dr. Debbie Gan Siew Siew:
I love the used of bold vector graphics with minimal but harmonious colours. The cultural elements from both countries, Japan and Malaysia have been carefully selected and is well juxtaposed - although different culturally, the symbolic sun that rises is the same.
Nik Faiz Nik Amin:
An iconic design with strong symbolic element from Malaysia and Japan. Beh Sin Yen has successfully positioned each element and forged connectivity and intelligently pushed out beyond scenery design boundary.
Nini Marini
:
A clever visual story that uses similar objects from each country to unify. Sharing our common traits especially upon first meeting is a peaceful and respectful way to build relationships as often practiced in Japanese culture exchange. It is also nice to note that the designer was sensitive to make full use of tenugu cloth by showing visual similarities from the ground all the way to the sky (or vice versa). This is made harmonious through the use of a graphical style similar to block prints and colors seen in both countries.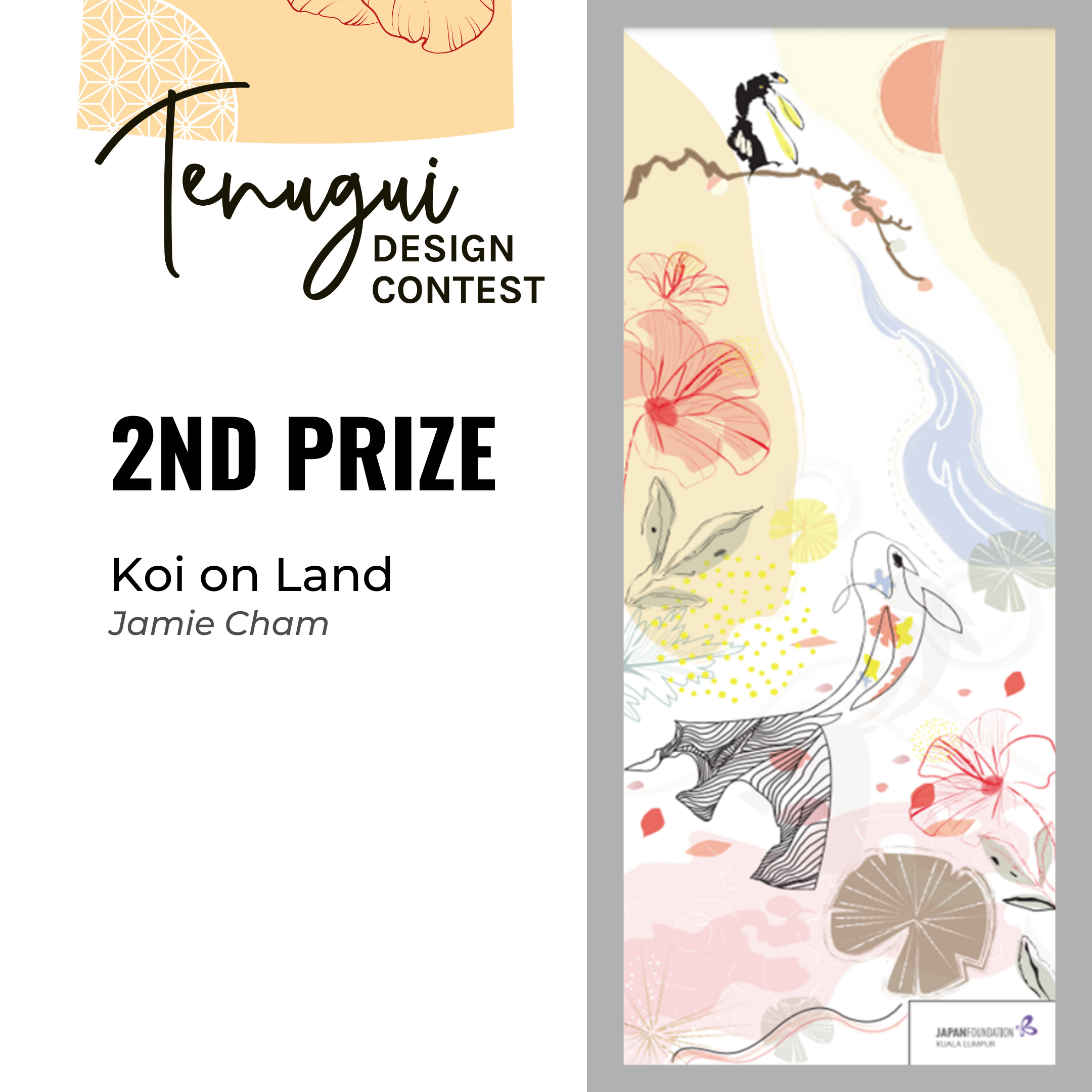 JUDGES' COMMENTS
Dr. Debbie Gan Siew Siew:
Design style is quite unique depicting an intriguing narrative of how a Japanese Koi travel to land and met with a Malaysian hornbill. The story brings out the concept of relationship between two countries with the added elements representative of both nations. The colours used are also visually pleasing.
Nik Faiz Nik Amin:
This "Koi on Land" satisfies almost completely all attributes without being a dominating hulk combining flora to fauna integration. Not a conventional interpretation of scenery design where the landscape views look harmony in character and providing subtle range of color tones to experience.
Nini Marini
:
This delightfully illustrated tenugui that tells the story of the Japanese Koi fish that travels alone upstream and then meeting a Malaysian hornbill halfway is layered with much meaning. Symbolically, these two ancient animals represent an exotic and unexpected friendship. Visually it is illustrated in a manner that feels like a fushion of both Chinese & Japanese ink artwork. The subtle use of national colors and other elements like the bunga raya, lily pad describes a shared landscape that also speaks of a harmonious world where our two cultures can exist.
JUDGES' COMMENTS
Dr. Debbie Gan Siew Siew:
The creative concept of patience / 'sabar' in Malay and Saba fish depicted in a retro-ish style is interesting! The idea of having patience when dealing with two cultures are definitely a relevant one.
Nik Faiz Nik Amin:
It's the design story that made this artwork very interesting! Yang Will has touched vernacular design approach on the way a language is spoken and taught audiences something new to be related between Malaysian and Japanese words. Sabar has the deisgn element of a matured artwork and can symbolically patterened tenugui well with both identity of the great nations.
Nini Marini
:
A fun use of the mackeral visual and the word 'Sabar' as design elements. This design sparks curiosity and invites conversation to whoever receives or gives it as a gift. The explanation that will come will surely bring joy and laughter between the two parties. The deeper message behind the design of practicing patience and understanding amongst each other will serve to remind us of what truly matters. As a design, it is refreshing that the style is modern and contemporary yet the content is full of shared traditional values.
*All results are final and non-negotiable. The winners will be contacted by the organiser regarding the prizes.
---
[UPDATE AS OF 31 OCTOBER]
The submission for this contest has closed. Thank you so much to everyone who submitted. Stay tuned for updates on our channels very soon!
The Japan Foundation, Kuala Lumpur is proud to announce the "Tenugui Design Contest"!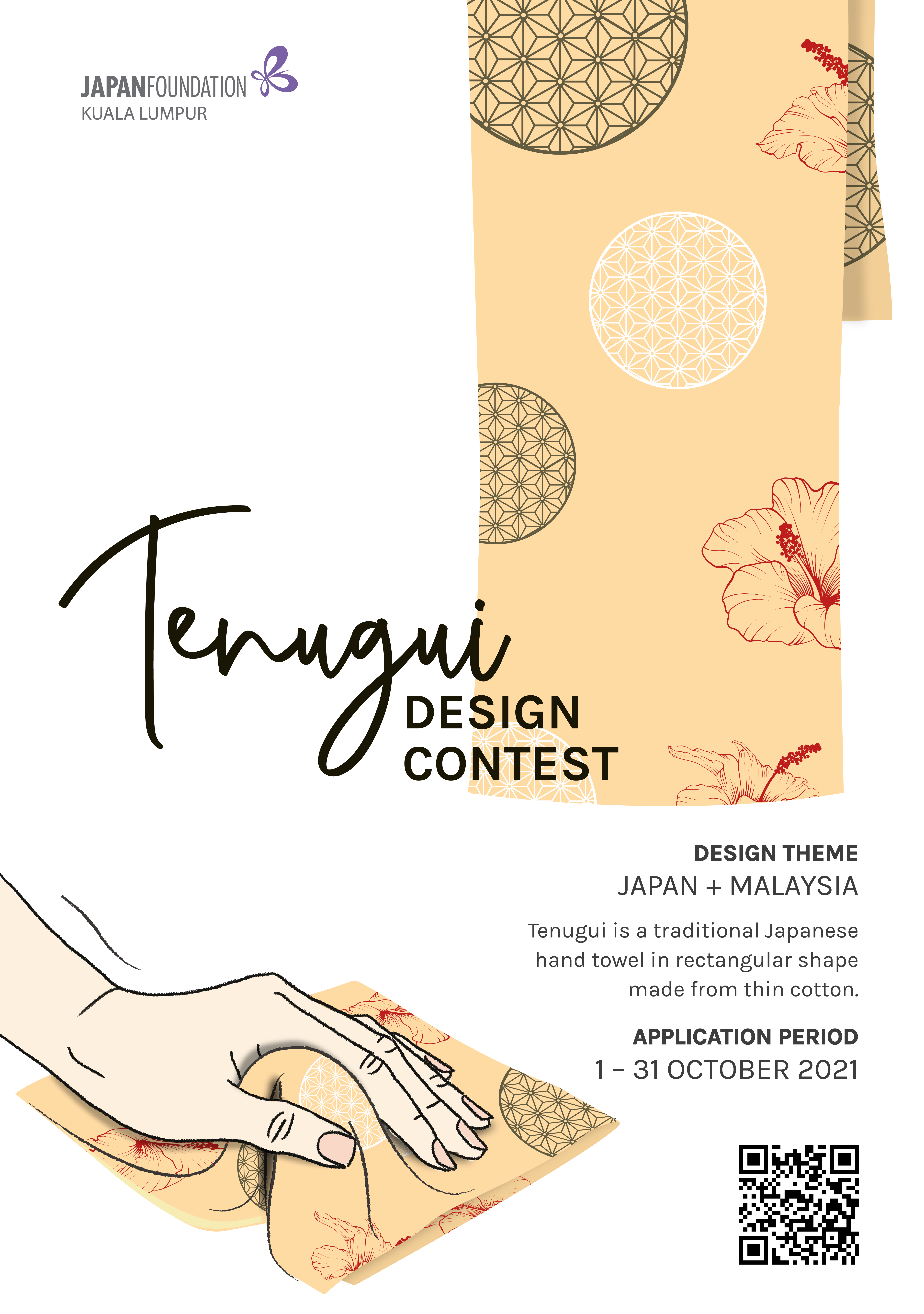 WHAT IS TENUGUI?
Tenugui (te (手): hand, nuguu (拭): wipe) is a traditional Japanese hand towel made from thin cotton. The shape is rectangular and comes in a standard size of 35 cm x 90 cm.
The long sides are finished with selvage, which prevents it from fraying. The short sides are simply cut and so part of the aesthetic is the slightly unfinished edge. The loose threads are a part of a tenugui's appeal, and it is a mark of their authenticity.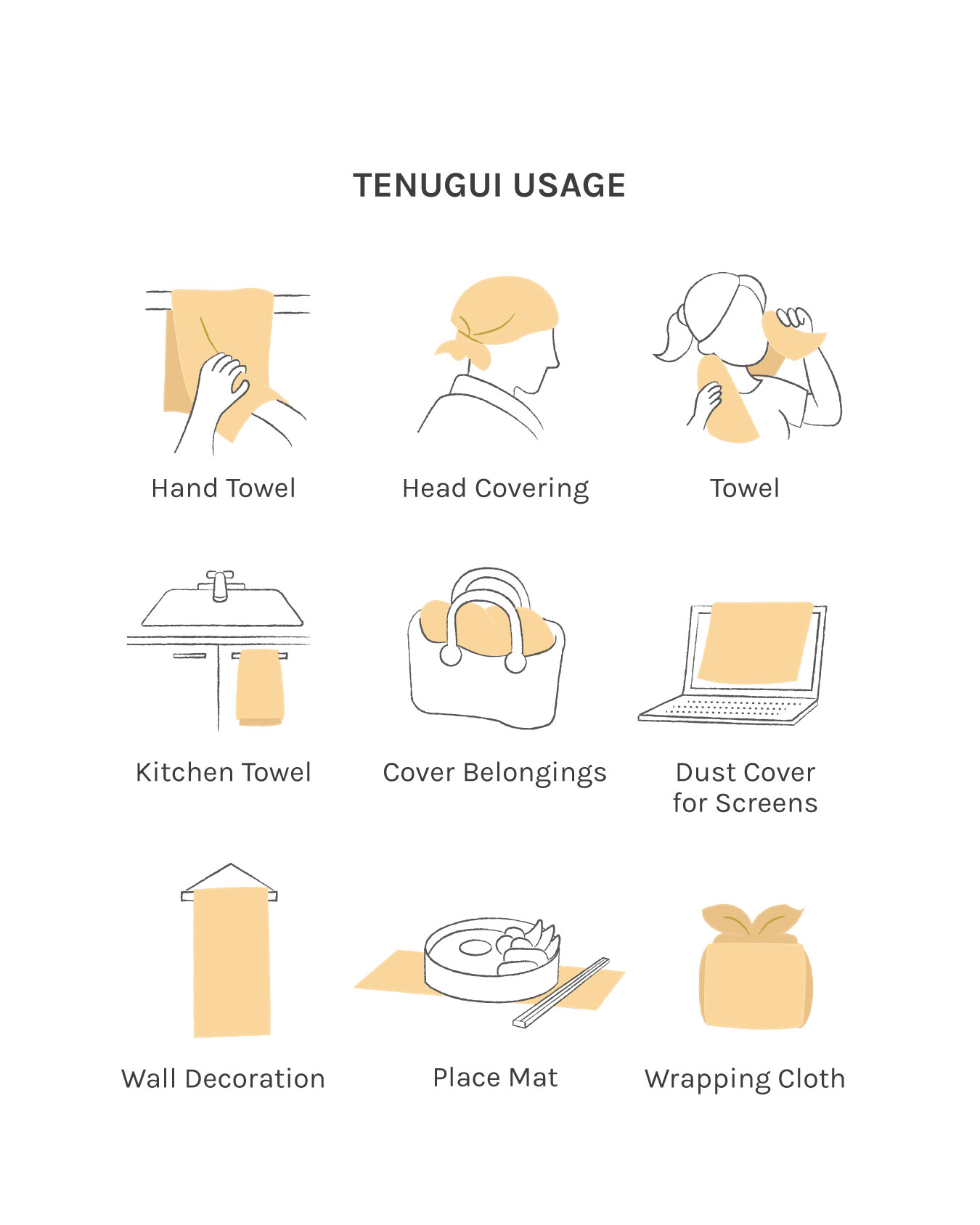 Tenugui is an endlessly useful and versatile towel and is used not only as a washcloth or dish cloth but also often used as a gift, headband, souvenir, decoration, wrapper for bottles and other items.
OBJECTIVE
The objective of this contest is to showcase the talent and creativity of Malaysians through a textile design for tenugui by incorporating the diverse cultural elements of Malaysia and Japan.
THEME
'Malaysia+Japan'
The design should evoke a fusion of Malaysian and Japanese cultural elements.
ELIGIBILITY
Open to Malaysian in Malaysia aged 18 years and above as of 1 January 2021.
APPLICATION PERIOD
1 – 31 October 2021.
SUBMISSION DEADLINE
Designs must be submitted by 5:00 PM, 31 October 2021.
NUMBER OF SUBMISSION
Only one entry allowed per submission.
DESIGN GUIDELINE
Design size: 35 cm x 90 cm, 300dpi
The design should be for a rectangle-shaped fabric, 35 cm x 90 cm in size, with a resolution of 300dpi. Please apply the design on the template provided. Refer to the "Contest Guideline" for a detailed explanation.
DOWNLOAD
1. Contest Guideline (PDF)
2. Entry Form (Word)
3. Design Template (ZIP, contains AI, PDF, JPG)
4. e-Flyer (PDF)



PRIZES


First prize: RM 1,500 and certificate
Second prize: RM 1,000 and certificate
Third prize: RM 500 and certificate
JUDGES
Assistant Professor Dr. Debbie Gan Siew Siew
Deputy Dean, First City University College

Debbie has over 10 years of professional experience in Design Management focusing on design & brand strategy and higher education management based in UK and Malaysia. She believes the continual development of branding strategy can help strengthen and grow businesses through integrated marketing communication. Besides being an entrepreneur and educator, she is also active in the creative design community.

Nik Faiz Nik Amin
Founder and Creative Director of Gahara

Architect-turned-artist Nik Faiz Nik Amin is a third-generation batik artisan from a family of batik makers based in Penambang, Kelantan Darul Naim. His globally-recognised homegrown artisan batik brand – Ruzzgahara aims to revive traditional batik production that embraces a more eco-friendly, ethical and sustainable approach. The brand has been featured in various international publications including Vogue British and Tatler Magazine British.

Nini Marini
Artist & Creative Entrepreneur

Nini Marini is a graduate of The Birmingham City University, in Visual Communications. She has spent 20 years in the media industry as a producer and then content Innovation head for a national media company whilst practicing art on the side. Today, Nini is a multi-artist & creative entrepreneur whose goal is to promote the arts and creative thinking.
INQUIRY
For inquiries, kindly write to tenuguicontest[at]jfkl.org.my, attention to Ms. Nurul Amira at amira[at]jfkl.org.my or call us at 03-2284 6228.
---
Page last updated: 22 December 2021