[UPDATE AS OF 31 OCTOBER]
The submission for this contest has closed. Thank you so much to everyone who submitted. Stay tuned for updates on our channels very soon!
The Japan Foundation, Kuala Lumpur is proud to announce the "Tenugui Design Contest"!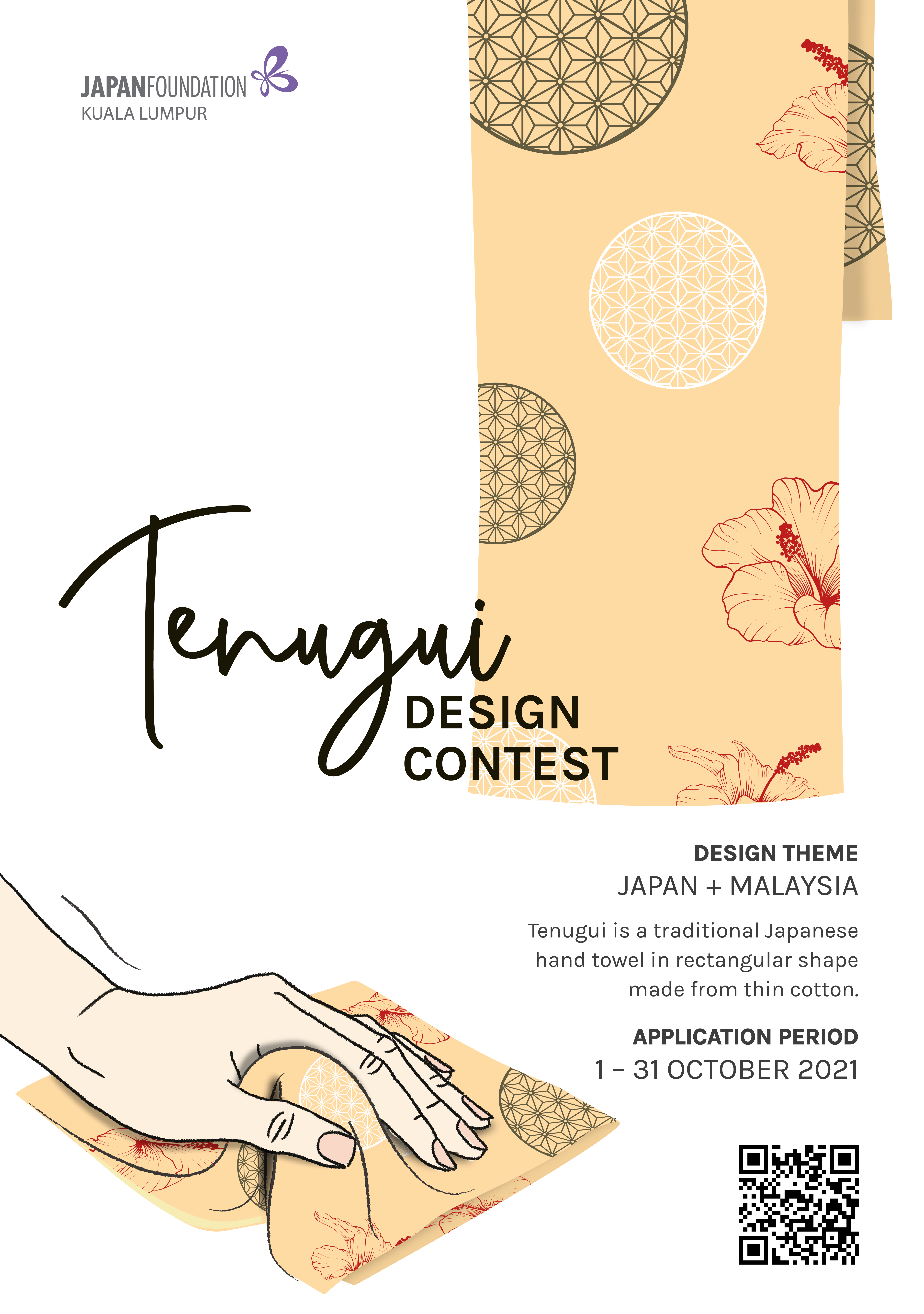 WHAT IS TENUGUI?
Tenugui (te (手): hand, nuguu (拭): wipe) is a traditional Japanese hand towel made from thin cotton. The shape is rectangular and comes in a standard size of 35 cm x 90 cm.
The long sides are finished with selvage, which prevents it from fraying. The short sides are simply cut and so part of the aesthetic is the slightly unfinished edge. The loose threads are a part of a tenugui's appeal, and it is a mark of their authenticity.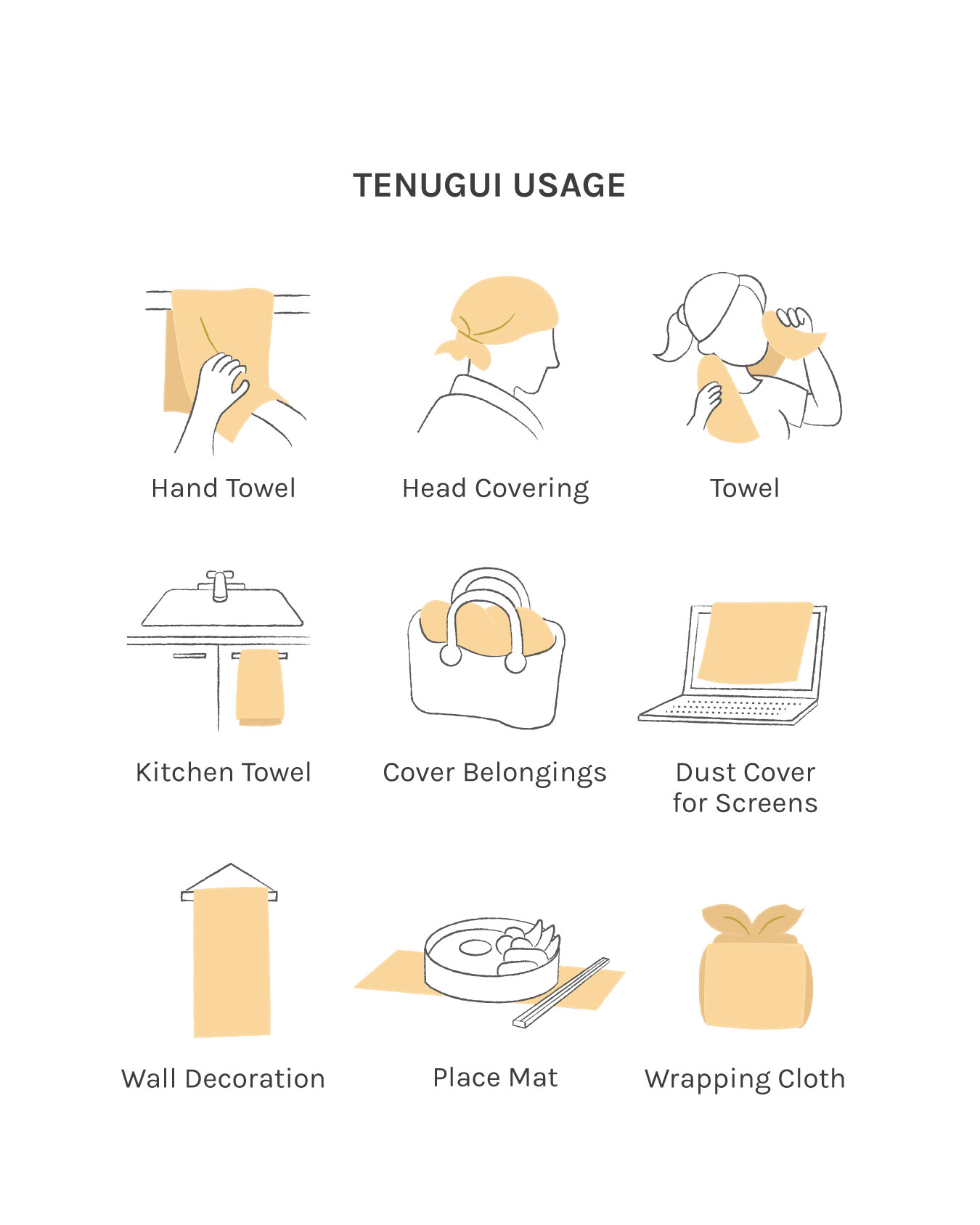 Tenugui is an endlessly useful and versatile towel and is used not only as a washcloth or dish cloth but also often used as a gift, headband, souvenir, decoration, wrapper for bottles and other items.
OBJECTIVE
The objective of this contest is to showcase the talent and creativity of Malaysians through a textile design for tenugui by incorporating the diverse cultural elements of Malaysia and Japan.
THEME
'Malaysia+Japan'
The design should evoke a fusion of Malaysian and Japanese cultural elements.
ELIGIBILITY
Open to Malaysian in Malaysia aged 18 years and above as of 1 January 2021.
APPLICATION PERIOD
1 – 31 October 2021.
SUBMISSION DEADLINE
Designs must be submitted by 5:00 PM, 31 October 2021.
NUMBER OF SUBMISSION
Only one entry allowed per submission.
DESIGN GUIDELINE
Design size: 35 cm x 90 cm, 300dpi
The design should be for a rectangle-shaped fabric, 35 cm x 90 cm in size, with a resolution of 300dpi. Please apply the design on the template provided. Refer to the "Contest Guideline" for a detailed explanation.
DOWNLOAD
1. Contest Guideline (PDF)
2. Entry Form (Word)
3. Design Template (ZIP, contains AI, PDF, JPG)
4. e-Flyer (PDF)



PRIZES


First prize: RM 1,500 and certificate
Second prize: RM 1,000 and certificate
Third prize: RM 500 and certificate
JUDGES
Assistant Professor Dr. Debbie Gan Siew Siew
Deputy Dean, First City University College

Debbie has over 10 years of professional experience in Design Management focusing on design & brand strategy and higher education management based in UK and Malaysia. She believes the continual development of branding strategy can help strengthen and grow businesses through integrated marketing communication. Besides being an entrepreneur and educator, she is also active in the creative design community.

Nik Faiz Nik Amin
Founder and Creative Director of Gahara

Architect-turned-artist Nik Faiz Nik Amin is a third-generation batik artisan from a family of batik makers based in Penambang, Kelantan Darul Naim. His globally-recognised homegrown artisan batik brand – Ruzzgahara aims to revive traditional batik production that embraces a more eco-friendly, ethical and sustainable approach. The brand has been featured in various international publications including Vogue British and Tatler Magazine British.

Nini Marini
Artist & Creative Entrepreneur

Nini Marini is a graduate of The Birmingham City University, in Visual Communications. She has spent 20 years in the media industry as a producer and then content Innovation head for a national media company whilst practicing art on the side. Today, Nini is a multi-artist & creative entrepreneur whose goal is to promote the arts and creative thinking.
INQUIRY
For inquiries, kindly write to tenuguicontest[at]jfkl.org.my, attention to Ms. Nurul Amira at amira[at]jfkl.org.my or call us at 03-2284 6228.
---
Page last updated: 1 November 2021