by Shahrul Fatehah

In the Japanese Buddhist custom Obon (お盆) or just Bon (盆), the spirits of deceased family members are honoured and this tradition calls for a significant reunion holiday which is celebrated all over Japan. This traditional custom has been commemorated for over 500 years and made known all over the world by the meaningful dance known as Bon Odori.
This year, the main Bon Odori festival in Malaysia is yet again observed in two places; Kuala Lumpur and Penang. The festival was held simultaneously on 20th July 2019 in Kompleks Sukan Negara, Shah Alam for the KL-ites and Queensbay Mall for Penangites.
To make it more memorable, the volunteers for Nihongo Partners Programme, known as Nihongo Partners or NP for short, tended a booth to introduce Japanese culture to the visitors. 7 NPs from the programme set up a booth for Shateki – a shooting game stall that is commonly found at Japanese festivals.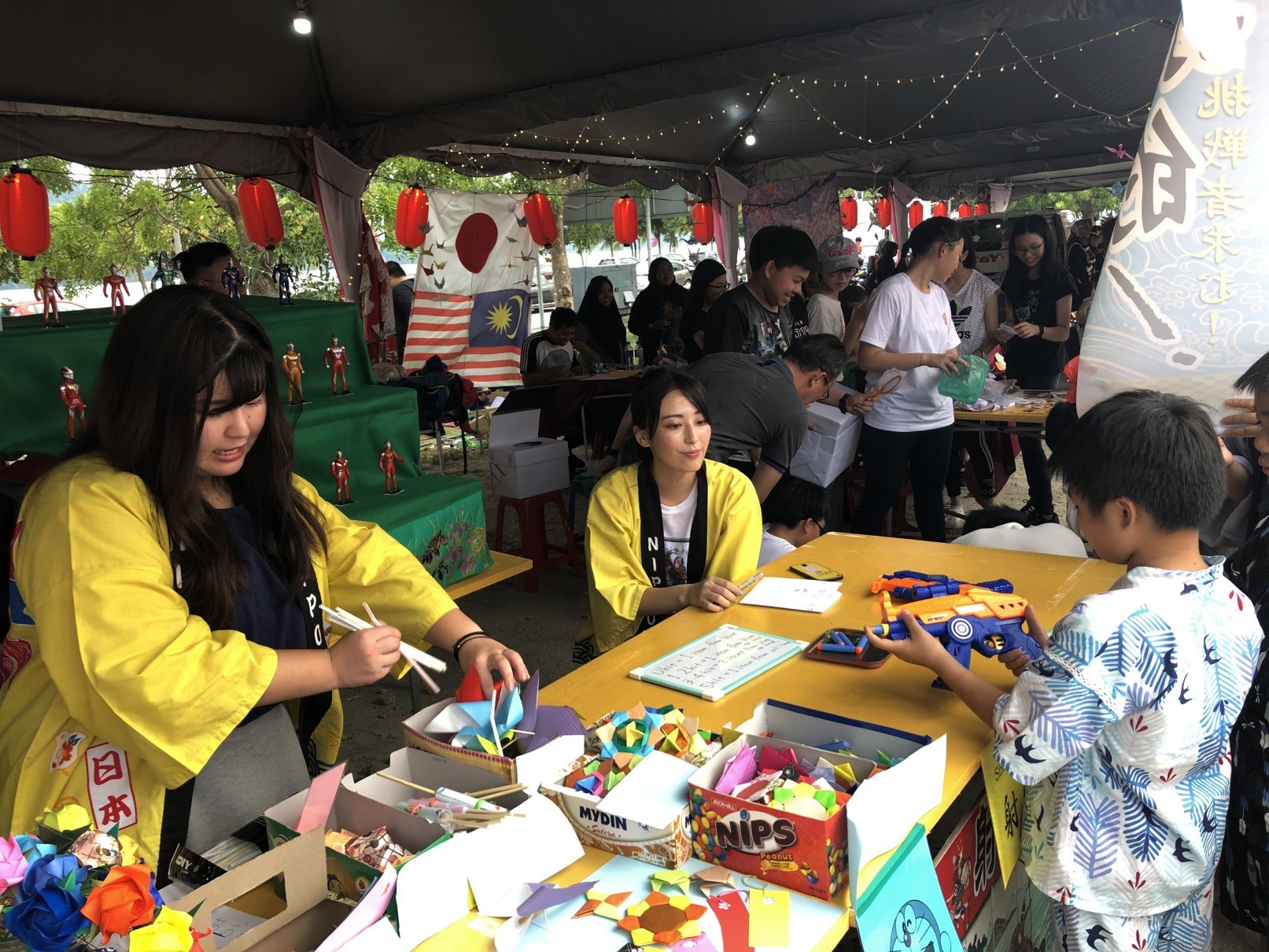 Since game stalls are rather uncommon during the Bon Odori Festival in Malaysia, the NP's Shateki booth gathered a busy crowd comprised of both Malaysian and Japanese visitors. The visitors, especially children enjoyed themselves while playing the game. What made it more special was that the winners walked away with prizes handmade by the NPs such as Tsumami Zaiku (fabric flower hair accessories), Mizuhiki (ceremonial paper strings), Origami and Japanese sweets-shaped magnets.
A Japanese family who visited the booth told the NPs that they were very grateful for such a wonderful atmosphere at the Bon Odori Festival even though they were miles away from their home country. The parents were very happy that their children were excited to spend time at the Shateki booth.
The NPs who tended the booth gained memorable experience from their interaction with the Penang locals who came to the festival. Some of the students from their host schools came for the festival but decided to give the NP's bustling booth a hand as well. Since this was also the NPs first experience manning such a booth during the Bon Odori Festival, they were surprised to see the mass scale of visitors and it made them extremely happy with the reception towards Japanese culture in Malaysia.