The Japan Foundation, Kuala Lumpur is proud to announce "Furoshiki Design Contest"!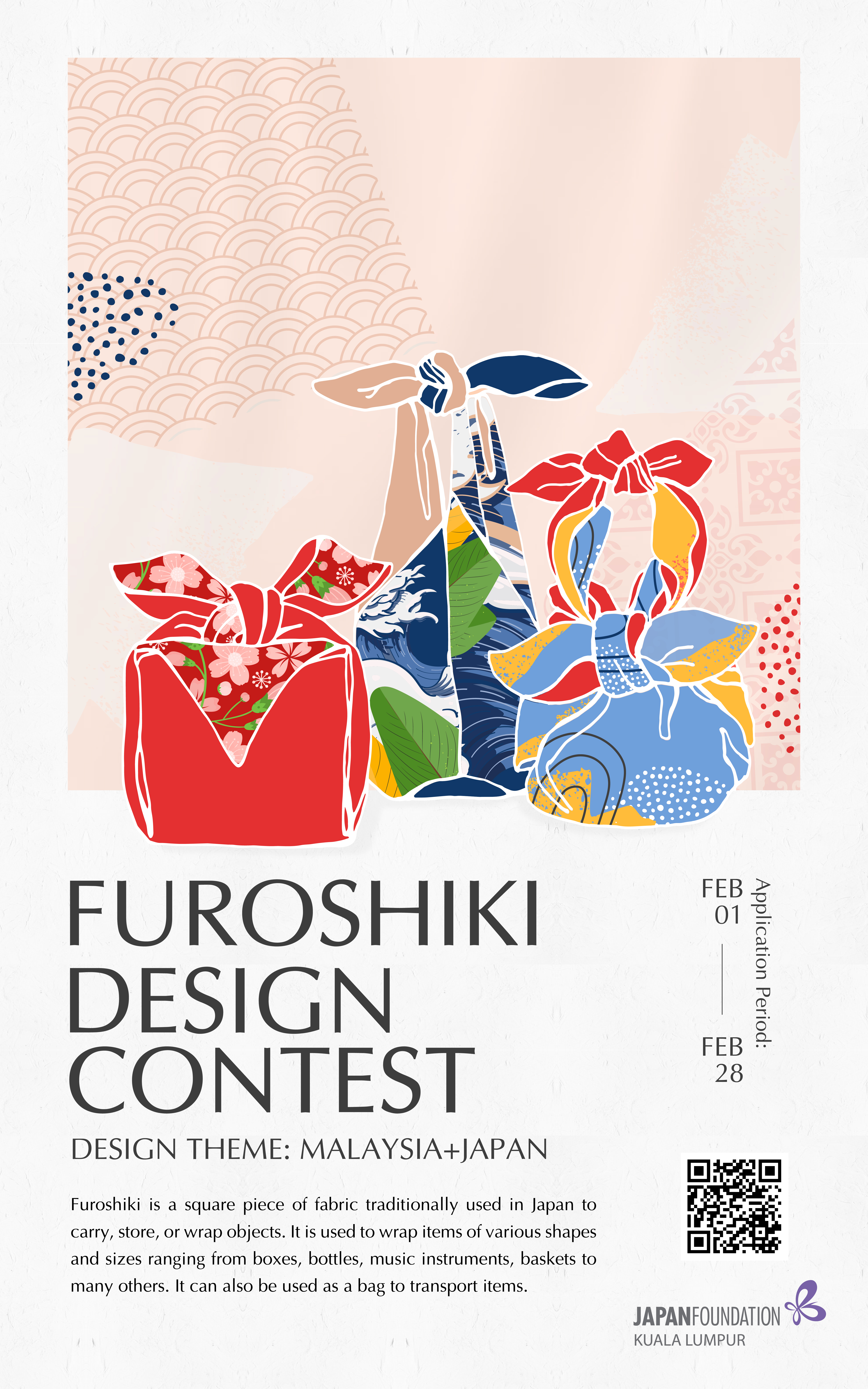 WHAT IS FUROSHIKI?
Furoshiki is a square piece of fabric traditionally used in Japan to carry, store, or wrap objects. It is used to wrap items of various shapes and sizes ranging from boxes, bottles, music instruments, baskets to many others. It can also be used as a bag to transport items.
Furo means "bath" and shiki means "to spread out", derived from the practice of using furoshiki during the Edo period to bundle clothes at the
sentō
(public baths) to prevent it from getting mixed-up with that of other bathers.
Modern furoshiki can be made from a variety of fabrics including silk, chirimen, cotton, rayon, and nylon. The dimension of a furoshiki can range from hand-sized to larger than bed sheets.
Over the years, the usage and popularity of furoshiki declined as department stores and supermarkets started providing paper and plastic bags to their customers. However, it has regained its popularity as it is environmentally friendly and helps reduces the use of plastics.
OBJECTIVE
To showcase the talent and creativity of arts and design students in Malaysia by having them create a textile design for furoshiki by incorporating the diverse cultural elements of Malaysia and Japan.
THEME
'Malaysia+Japan'
The design should evoke a fusion of Malaysian and Japanese cultural elements.
ELIGIBILITY
Open to art and design students who are currently studying either in public or private universities, colleges, vocational or any other educational institutions in Malaysia aged 18 years and above as of 1 January 2021.
APPLICATION PERIOD
1 – 28 February 2021
NUMBER OF SUBMISSION
Only one entry allowed per submission
DESIGN GUIDELINE
Design size: 70x70cm, 300dpi, JPEG/PDF
The design should be for a square-shaped fabric, 70cm x 70cm in size, with a resolution of 300dpi.
Submission should be in either JPEG or PDF. Please apply the design on the template provided.
DOWNLOAD
1. Contest Guideline (PDF)
2. Entry Form (Word)
3. Template (ZIP, contains AI, PDF, JPG)
4. e-Flyer (PDF)



PRIZES


First prize: RM2,500 and certificate
Second prize: RM2,000 and certificate
Third prize: RM1,500 and certificate
JUDGES
Assistant Professor Dr. Debbie Gan Siew Siew
Deputy Dean, First City University College

Debbie has over 10 years of professional experience in Design Management focusing on design & brand strategy and higher education management based in UK and Malaysia. She believes the continual development of branding strategy can help strengthen and grow businesses through integrated marketing communication. Besides being an entrepreneur and educator, she is also active in the creative design community.

Nik Faiz Nik Amin
Founder and Creative Director of Gahara

Architect-turned-artist Nik Faiz Nik Amin is a third-generation batik artisan from a family of batik makers based in Penambang, Kelantan Darul Naim. His globally-recognised homegrown artisan batik brand – Ruzzgahara aims to revive traditional batik production that embraces a more eco-friendly, ethical and sustainable approach. The brand has been featured in various international publications including Vogue British and Tatler Magazine British.

Nini Marini
Artist & Creative Entrepreneur

Nini Marini is a graduate of The Birmingham City University, in Visual Communications. She has spent 20 years in the media industry as a producer and then content Innovation head for a national media company whilst practicing art on the side. Today, Nini is a multi-artist & creative entrepreneur whose goal is to promote the arts and creative thinking.
INQUIRY
For inquiries, kindly write to furoshikicontest[at]jfkl.org.my, attention to Ms. Nurul Amira at amira[at]jfkl.org.my or call us at 03-2284 6228.