ANNOUNCEMENT [28 October 2021]
Due to an unforeseen circumstance, this session will be postponed to a later date.
MAJAS Member Lecture Series in October 2021
Date
: 28 October 2021 (Thursday)
Time
: 3:00 PM
Platform
: Online via Google Meet
Admission
: FREE
Speaker: Dr. Normizan bin Bakar (Senior Lecturer, Department of Economics, School of Economics, Finance, and Banking, University Utara Malaysia)
Moderator: Dr. Alias bin Abdullah (University Malaya)
(Lecture will be conducted in Bahasa Malaysia)
TOPIC

Perbandingan Promosi Eksport Kedah dan Kagoshima (Jepun)
鹿児島県とケダー州における輸出支援策の比較研究

ABSTRACT

Kejayaan eksport adalah komponen penting bagi menentukan pertumbuhan ekonomi sesebuah negara pada era globalisasi. Agensi Promosi Eksport (EPA) memainkan peranan penting dalam menyelaras dan membantu firma tempatan untuk mengeksport. Di Malaysia, Malaysia External Trade Development Corporation (MATRADE) telah ditubuhkan bagi menggalas tanggungjawab ini di peringkat kebangsaan. Manakala, di Jepun, Japan External Trade Organization (JETRO) memainkan peranan yang serupa dan berjaya membentuk jaringan dengan kerajaan dan institusi swasta tempatan. Kajian ini menganalisis fungsi dasar eksport kerajaan tempatan dan mengkaji bagaimana firma tempatan mendapat faedah daripada dasar tersebut. Di Kedah, kebanyakan firma tempatan adalah kecil dan sederhana (SME) dan menghasilkan produk untuk pasaran tempatan. Walau bagaimanapun, hanya sebahagian kecil daripada firma tempatan mengeksport kerana pelbagai halangan dihadapi. Sebaliknya, di Kagoshima, kebanyakan firma kecil dan sederhana mengeksport dan mendapat faedah daripada promosi eksport tempatan. Kajian ini mendapati tiga perkara penting yang menyumbang kepada kejayaan eksport firma di Kagoshima iaitu (i) kerjasama antara firma dalam persatuan, (ii) kerjasama antara kerajaan tempatan dan persatuan dan (iii) kerjasama antara agensi kebangsaan dengan persatuan.
---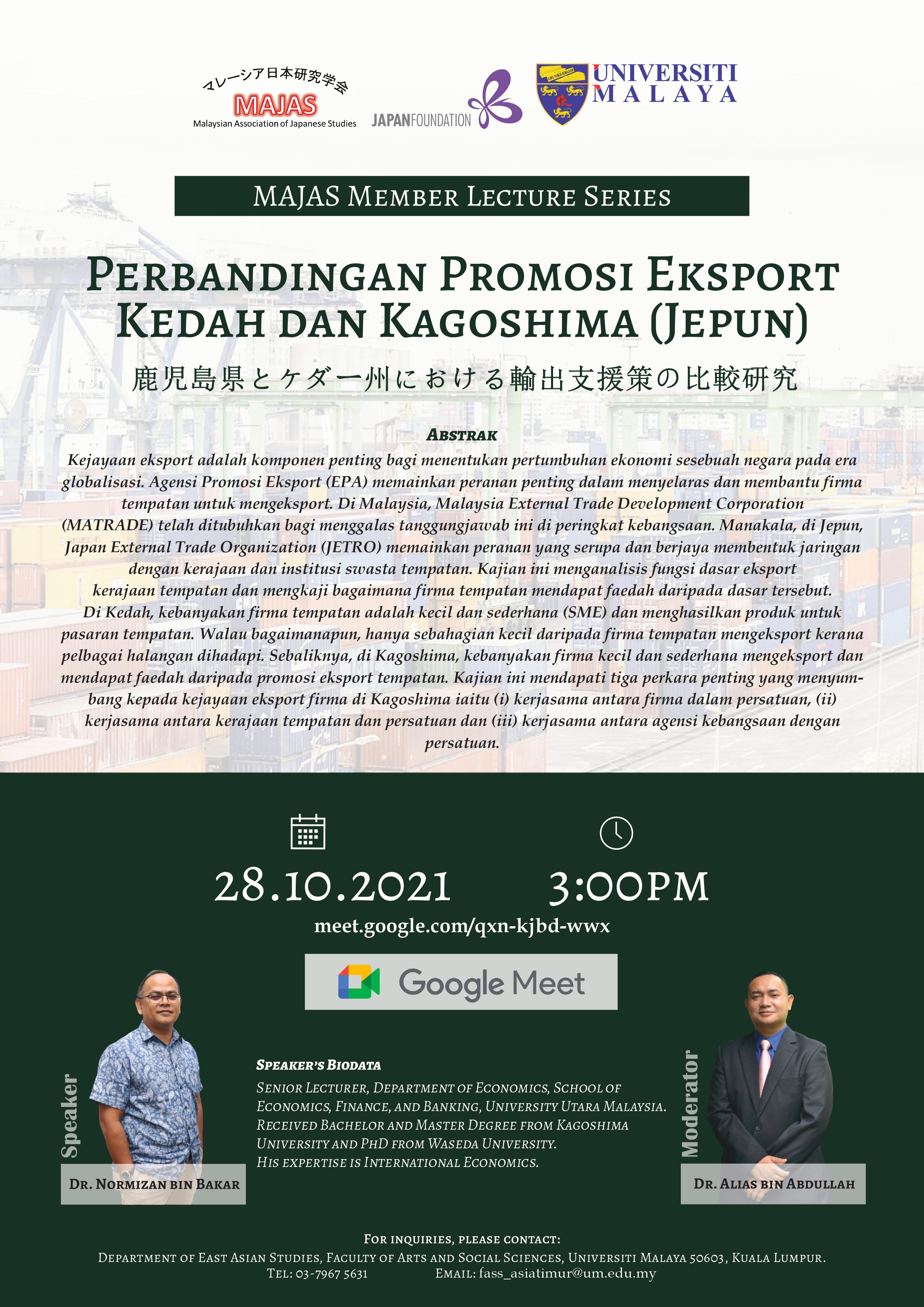 Click on the poster to download e-Flyer