The speech theme this year is "Me, after 10 years…" but students must create their own appropriate title. The speech must be within 5 minutes' length.
The contest is divided into 2 categories:
Public School Learners (Those who learn Japanese Language at Public School); and
Private Learners (Those who learn Japanese Language outside the Public School)

THE 16TH MALAYSIAN JAPANESE SPEECH CONTEST FOR SECONDARY SCHOOL (2019) RESULT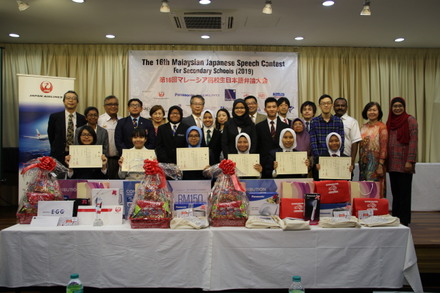 The annual event was successfully held at The Japan Club of Kuala Lumpur on Saturday,
20th April 2019.

The top 6 winners and their respective speech titles are as follows:-
1st Prize: Ain Nur Izzah Binti Zaidi

SMK Bukit Jambul
Title: The Future Is Today
2nd Prize: Nur Zarifah Binti Affandi
SMS Miri
Title: Letter To Myself
3rd Prize: Aw Yung Lyn
SMK (P) Methodist Klang
Title: A Dream To Achieve
4th Prize: Batrisyia Hanicky Lee Zhen
Bt Mohd Azhari Ismail Lee
SMK Convent Klang
Title: 16 Years Old's Dream
5th Prize: Tan Yi
Tsun Jin High School
Title: Me, After 10 Years -
Memoir of Ken Chan
6th Prize: Nur Fitri Betricia Binti Rajuna
SMS Miri
Title: Men In ten Years
NATIONAL LEVEL
Date: 20 April 2019 (Saturday)
Time: 1:00pm~5.30pm
Venue: The Japan Club of Kuala Lumpur (JCKL)
(For the location map to JCKL CLICK HERE)
---
WHAT'S NEW?
Information & Downloads

24 April 2019

*UPDATED*



(1) RESULT ANNOUNCEMENT

13 March 2019

(1) Contest Finalists Announcement: 2 April 2019 (Tuesday)

13 March 2019

(1) Sponsors
13 March 2019
(2) Supporters

19 February 2019

(1) Date, Time, and Venue

(2) JCKL Location Map

22 January 2019

(1) Contest Flyer
21 December 2018

*APPLICATION CLOSED*

(1) Rules and Regulations
The 16th Japanese Speech Contest for Secondary Schools is organised by the Embassy of Japan in Malaysia and The Japan Foundation, Kuala Lumpur with the cooperation of the Ministry of Education Malaysia.